Excalibur (+others) Parts
Excalibur (+others) Parts
LINK DRIVE SCROLL SAW "E-Z" REPAIR PARTS ASSEMBLIES
For your convenience, SEYCO offers Excalibur parts assemblies to enable our customers to accomplish repairs to their link drive TILTING HEAD scroll saws quickly and easily without special assembly tools and equipment. Our assemblies also help lessen the possibility of "incorrect diagnosis" and the frustrations associated with "trial and error" fixes

.

While these assemblies are identified as "Excalibur Parts" we find clarification necessary because of the recent changes that have taken place with the Excalibur brand name since 2016. Our assemblies are guaranteed to fit all tilting head design Excalibur saws manufactured prior to June 2016. Excaliburs manufactured after June 2016 are from a different manufacturer and we cannot guarantee our assemblies will fit and work properly with those saws. Seyco's 30 plus years experience with the Excalibur brand is limited to the Excalibur scroll saws manufactured prior to June 2016.
NOTE: THESE PARTS ASSEMBLIES ARE DESIGNED FOR THE TILTING HEAD SEYCO, EXCELSIOR & EXCALIBUR, SCROLL SAWS AND

DO NOT FIT

THE OLDER TILTING TABLE STYLE AND THE

2017 AND NEWER

EXCALIBUR SCROLL SAWS.
ARE YOU LOOSING BLADE TENSION?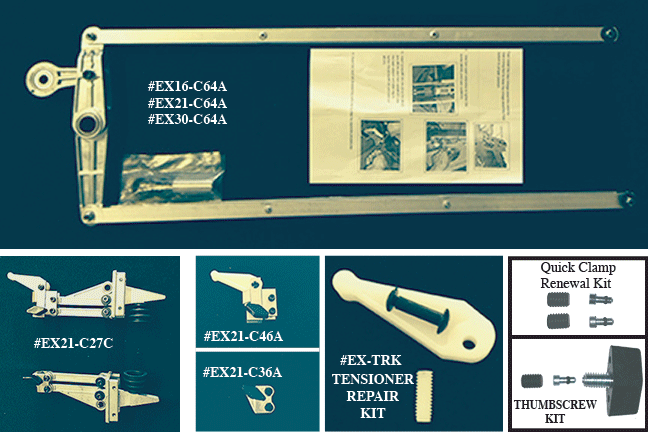 The C64A is a complete drive link assembly that replaces everything from the motor shaft forward to the front rocker arms. All bearings and bearing pins are included and assembled as shown including installation instructions with photos. The drive linkage for the EX-21 and EX-30 are longer and all other parts in this assembly are the same for all 3 size saws. Add to your shopping cart and calculate shipping on the cart checkout page. Some earlier versions had an adjuster in the top linkage that is no longer necessary.


Same as above with longer drive linkage for the EX-21.

Same as above with longer drive linkage for the EX-30.

The EX21-C27C consists of both top and bottom front rocker arm assemblies complete with blade clamp/tensioner on top and blade clamp on bottom. Includes all bearings and bearing pins, air/balance baffles and assembled as shown with installation instructions.

Bottom blade clamp assembly complete with thumbscrew, clamping screw and mounting bearing pins and bolts. Fits EX-16, EX-21 and EX-30.


Top blade clamp/flip tensioner assembly complete with thumbscrew, clamping screw and mounting bearing pins and bolts.

Fits EX-16, EX-21 and EX-30.




Normal wear parts replacement kit for top tensioner assembly. Screw post replaces spring roll pin and eliminates needing a press arbor to accomplish replacement.

Quick Clamp renewal kit. Replaces just the parts that actually grip the blade both top and bottom. BE SURE TO REPLACE BOTH RIGHT AND LEFT SIDE OR BLADE SLIPPAGE MAY NOT BE CORRECTED.

T-Bolt type thumbscrew assembly with swiveling clamping pad and clamping screw for left side.

Power Switch for all sizes Excalibur Scroll saws. NOTE: FREIGHT PLUS 30% RE-STOCKING CHARGES APPLICABLE TO ALL RETURNED ELECTRICAL PARTS.

Motor speed control for all sizes Excalibur scroll saws. NOTE: FREIGHT PLUS 30% RE-STOCKING CHARGES APPLICABLE TO ALL RETURNED ELECTRICAL PARTS.

Motor control set (circuit board assembly). NOTE: FREIGHT PLUS 30% RE-STOCKING CHARGES APPLICABLE TO ALL RETURNED ELECTRICAL PARTS.

Variable speed motor for all sizes Excalibur scroll saws. NOTE: FREIGHT PLUS 30% RE-STOCKING CHARGES APPLICABLE TO ALL RETURNED ELECTRICAL PARTS.

Fuse Pak (Pak of 3 fuses)


Air blower bellows

Complete Air Blower Replacement assembly